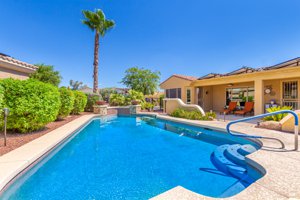 Some great reasons to live in Surprise include a low crime rate, excellent public schools, and an abundance of recreational opportunities. As a result, you can enjoy a high quality of life in this A+-rated city. If you love sports, the city is perfect for you.
Quality homes for sale in Surprise, AZ, are of good value.
In addition to its excellent schools, Surprise is also a safe place to live, with a crime rate of three percent below the national average. Additionally, the city is close to various colleges, including Arizona State University West, Ottawa University, and Estrella Mountain Community College. This combination ensures that living in Surprise will be a safe and comfortable experience for you and your family.
The demographics of a city can tell you a lot about the feel of a neighborhood. For example, most homes in Surprise are owner-occupied, and the average household size is 2.8. Others might select a quiet neighborhood with plenty of open spaces and nature. However, quality of life is a matter of taste, and you may prefer a walkable city or a suburban setting.
Surprise is a city in Arizona with 150k residents. It has a median age of 40, higher than the state average. The city is surrounded by the breathtaking Sonoran Desert and is around two hours away from Flagstaff. We always have plenty of things to do in the Surprise area, and you can even take your family on a hiking excursion if you'd like to get out of the city.
Surprise AZ has meager crime rates.
The crime rates in Surprise are incredibly low, which is excellent news for anyone looking for a safe place to live. They are much lower than the national average and significantly lower for all Arizona cities. This makes Surprise one of the safest places to live in the United States. What's more, the crime rate in Surprise has been steadily decreasing over the last year.
Crime rates depend on a number of factors. For example, a city's poverty rate is one of the most significant factors in its crime rate. The poor are more likely to turn to crime to make ends meet. Ultimately, lowering poverty levels can reduce the number of crimes in a city.
While crime rates in Surprise are low, they are increasing in Gilbert, a nearby city. It is estimated that Gilbert has nearly half as many police officers per thousand residents as Surprise.
Surprise is the place for sports.
Surprise is home to Surprise Stadium, a world-class venue. This stadium is a favorite destination for sports fans and locals alike. Surprise is also one of the most fabulous places in the state to watch live sports. Whether a Texas Rangers fan or a Royals fan, there is no better place to enjoy a game than at Surprise Stadium.
The weather is excellent!
Surprise is a great place to live because the weather is warm and mild. There are a few times when the temperature in Surprise is less than perfect, but for the most part, the climate is excellent. The cool season lasts a few months, from December to March, and the warmest month is July. The average daily high temperature is about 73 degrees Fahrenheit, while the coldest month is December.
The weather in Surprise, Arizona, is generally great. There are fewer than five days of rain each year and temperatures rarely fall below 35 degrees F. The average annual rainfall is 8.1 inches. In addition, there are no days of snowfall. This means that you can swim and enjoy the sun almost year-round.
In addition to great weather, Surprise also has plenty to do for visitors. The city hosts several annual events and festivals. These include a food truck festival, a wine festival, and a Second Sundays festival. Every December, the city also hosts the Surprise Party, which features live music, food, a traditional car show, and a carnival with camel rides. In addition, Surprise is home to Luke Air Force Base, which allows residents to watch military planes perform practice flights. During special events at Surprise Stadium, you can even see fighter jets fly over the city.
Arizona is beautiful
There are some of the best outdoor activities in Arizona near Surprise. Located in the northwest corner of the Phoenix metro area, Surprise is a sprawling suburb that's only 45 minutes from downtown. Surrounded by the White Tank Mountain range on the west and the Sonoran Desert on the north, this charming community is perfect for those who love outdoor activities.
Arizona is a great state to live in. Surprise is located in the Sonoran Desert, yet it is just a two-hour drive from the cool pines of Flagstaff. And with a population of just over half a million, this city has plenty of attractions. This climate and natural beauty diversity make Arizona a great place to live.
With low crime rates and moderate traffic, Surprise is a fantastic place to raise a family. It's also near several popular attractions like downtown Phoenix and Lake Pleasant. The city's schools are also highly rated, including Liberty High School and Paradise Honors High School.
Arizona is rich in history.
Native Americans were an essential part of Arizona's history. Before it joined the Union, the Spanish and Mexico ruled the area. During this period, the Indian and Spanish cultures came into contact. This can be seen in architectural styles, customs, foods, and even the names of places.
If you're seeking a way to learn more about the rich history of Arizona, consider taking a road trip to the state's historic sites. Stops like the Montezuma Castle National Monument and Petrified Forest National Park are fantastic ways to taste the region's cultural, geological, and natural history. A 5-story cliff dwelling, this landmark stands 100 feet above the surrounding valley floor.
Arizona is home to some of the country's oldest cities, including Tucson. This second-largest city is one of North America's oldest continuously inhabited areas. The Hohokam Indians inhabited the area for over 4,000 years before Spanish missionaries arrived. In the late 1600s, they founded the Presidio San Agustin del Tucson and Mission San Xavier del Bac. These two structures became iconic symbols of Arizona's history and culture.
Top things to Do in Surprise
There are many exciting things to do in Surprise, Arizona. From the spring training of the Texas Rangers to golfing, there's something for everyone. Surprise is located in Maricopa County and has a population of 143,148 people. It's a beautiful city that's worth exploring.
Spring Training Texas Rangers
The Texas Rangers will hold their first official spring training workout Monday in Surprise, Arizona, and it will be open to the public. The team has spent considerable money in the offseason on new players and is trying to build a contender. The first pitch was scheduled for 3:05 pm.
Unlike other Spring Training venues, the stadium in Surprise does not allow fans to take batting practice inside the stadium. Instead, teams practice in their home parks before busing to Surprise. As a result, it is best to position yourself behind home plate or alongside the tunnel used by visiting players to reach the playing field.
Surprise Stadium is located in the northwest section of the Phoenix metro area. It is about 23 miles northwest of the Arizona Capitol. It was built in 2002 and is home to the baseball teams Kansas City Royals and Texas Rangers. Each team has its own 37,000-square-foot clubhouse. The stadium has a capacity of 10,500 and is wheelchair accessible. Nearby parking areas and concession stands also serve the stadium.
Spring Training KC Royals
The Kansas City Royals spend part of Spring Training in Surprise, Arizona. The stadium celebrates its 20th anniversary this year. Fans can celebrate the milestone by purchasing commemorative helmet nachos. The stadium also features a new Tex-Mex souvenir helmet with jalapeno honey mustard. Fans can also enjoy Tex-Mex cuisine, including beer-battered smoked sausage corn dogs. There are also new dishes this year, like the Cactus Corn Dog, a beer-battered corn dog drizzled with jalapeno honey mustard. During game times, fans gather in the last two net-free sections to cheer on their favorite players.
Royals fans can also enjoy a more laid-back atmosphere this spring. The crowds are often less boisterous than during the regular season because there is no pennant race. However, spring training is also the time for the Royals to showcase some of their young minor-league prospects. For example, Bobby Witt Jr. was a high-profile prospect who was a hot commodity during the 2022 spring training season.
Pickle Ball
Pickle Ball is a fun paddle sport that in a fun way combines tennis, badminton, and ping-pong elements. It's gaining popularity among baby boomers as a great way to stay active and socialize. You can find award-winning active adult communities in Arizona that offer pickleball courts.
The Grand Pickleball Club is committed to promoting pickleball in Sun City Grand. The club has 1731 members, and its main objective is to promote the sport. The club also hosts events such as Grand Games II, an annual tournament, with the primary goal of raising money for the local food bank.
Pickle Ball is a fun, social sport with simple rules. Beginners can easily pick up the game, which can evolve into a fast-paced competitive game for more experienced players. Pickleball originated in Bainbridge Island in 1965, and it has since evolved into a popular sport in the US.
Golf
Golf is one of the top things to do and enjoy in Surprise, Arizona. There are 20 courses in the city and several golf facilities to choose from. There are also many community-oriented and family-friendly recreational activities, such as bowling and swimming. Surprise is also home to the renowned Surprise Stadium, which hosts two Major League Baseball teams each spring. The Very Loved! Texas Rangers and the Kansas City Royals play spring training games here. Other areas to enjoy including Waddell, which is nestled at the base of the White Tank Mountains. It is a safe and peaceful community with quick access to shopping and highways.
If you love golf, Surprise has seven championship golf courses within 20 miles of the city. Some of the top courses include Sun City Grand's Cimarron Course, designed by Greg Nass, and Desert Springs Golf Club. In addition, you can play at Granite Falls Golf Club, which includes both a north and south course.
Play Baseball
If you're interested in playing baseball, Surprise, Arizona, is the place to go. This Arizona city has several parks and fields where you can play. There are also many cultural events to check out. The city has a rotating art display as well as a permanent collection of local artwork. You can also visit Surprise City Hall at 16000 N Civic Center Plaza, which features an outdoor courtyard area where you can view art installations. It is also open during regular business hours.
Surprise Stadium is a world-class venue that hosts several events throughout the year, including professional baseball matches. During the spring and summer months, you can see Arizona's professional baseball teams in action. You can also catch an Arizona Fall League game, where the local minor league teams showcase their talent. Surprise Stadium also hosts a number of concerts and events each year.
A ticket to a baseball game at Surprise Stadium is only $8 and includes parking. The stadium's grass lot handles overflow parking. Most seats at Surprise Stadium are lower level, which means you'll be close to the action. However, there are also six upper-level sections for those who want to see the game up close without spending a fortune. These seats are under an overhang, which provides some shade.
Shopping
If you want to spend a day shopping, Surprise is the place for you. Surprise is home to a variety of retail centers, including Surprise Towne Center and Marketplace. These are sprawling open-air destinations that feature several big-name retailers. Other shopping options include Prasada, Tanger Outlets, and Park West Shopping Mall.
In the shopping center, you'll find Runners Sports Bar, where you can play pool, play darts, or watch horse racing and games on T.V. The bar is open from 10 am to 2 am. You can also go to the nearby Digiplex IMAX for an immersive movie experience. The theater has a great sound system and a variety of snacks and drinks to enjoy.
One of the most admired attractions in the area is the five-acre Surprise Municipal Lake. This lake is popular with anglers and is stocked with fish. Shopping centers and outdoor malls surround the lake, which is also home to several restaurants. Saigon Kitchen, a popular Vietnamese restaurant, offers pho, a hearty noodle soup with beef, chicken, shrimp, and basil.
Movies
One of the most desired things to do in Surprise, Arizona, is going to the movies. There are several local movie theaters that offer first-run movies, sports events, opera, and family movies. The Digiplex IMAX is a top-notch theater that offers a great atmosphere, plenty of space, and a great sound system. The theater is even kid-friendly and has a summer movie pass that children will love.
The Northwest Regional Library is a favorite destination for learning. It offers more than forty thousand books and has sixty computers. The library also features special areas for teens and children. There are also games for kids, a dog park, and a cozy reading room with scenic views.
If you're looking for a game to watch, try out the Surprise Slammers of the Pacific Coast League. They hold free family movie nights and have a Fourth of July parade. Parking is free, and you can also buy beer at the stadium.
Bowling
Surprise is home to the Surprise Stadium, a state-of-the-art baseball stadium with a 10,560-seat capacity. The stadium is the site of several major events throughout the year, including the Surprise Party in December and the Surprise Regional Library's Valentine's Day and Memorial Day celebrations. In addition, Surprise is home, and cherishes to a major league baseball team, the Kansas City Royals.
Surprise Stadium features large parking spaces and excellent facilities. If you're looking for more entertainment in Surprise, try Badaz Axes, an escape room experience that's both fun and scary. This eerie attraction offers a haunted mansion that makes you feel like you're in an adventure movie, and the escape rooms are always updated with new challenges and fun moments.
Uptown Alley Surprise, Arizona, features more than 40 lanes of bowling, billiards, laser tag, and a sports theater. The venue is popular with locals and hosts birthday parties and group bowling events. There's also a full-service restaurant that serves delicious food.