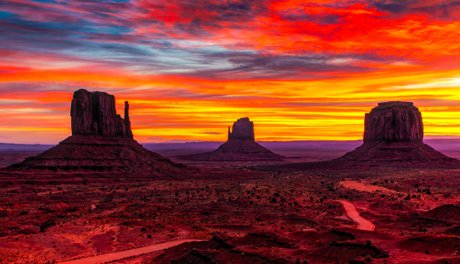 The modern city of Surprise AZ had its beginnings in 1938 when Flora Mae Statler, the city's founder, named the community Surprise as she "would be surprised if the town ever amounted to much." Flora Mae certainly would be surprised, if she could see the city today. It's grown from a handful of houses and a gas station on a one-square-mile plot of land to a thriving city of more than 118,000.
So why have so many people flocked to this small city on the outskirts of the Phoenix metropolitan area? There are dozens of good reasons, but we've narrowed it down to just ten.
Quality homes for sale in Surprise AZ are a good value
The median home price in Surprise is less than $200,000; while that may be more expensive than other areas surrounding Phoenix, homes for sale in Surprise AZ remain the best value on the Arizona market. The median age of Surprise AZ homes for sale is just 11 years old, and more importantly, home appreciation for the last 10 years in Surprise has been 39.8%. That means if you purchase a Surprise AZ homes for sale, it will be worth much more in a few years than what you paid for it. Those numbers far exceed the national average.
Surprise AZ has incredibly low crime rates
It goes without saying, Surprise AZ is one of the safest places in the country to live. Total crime in Surprise is 47% lower than the rest of Arizona and 36% lower than the national average. Even better, the crime rate has plummeted by an additional 17% just this year.
Surprise AZ is a city with A+ amenities
You will always be close to excellent shopping, public transportation, entertainment and health services when you live in Surprise AZ.
Surprise is the place for sports
For one thing, if you're a baseball fan, the Surprise Stadium ranks as the #1 Spring Training Stadium in Arizona. It's here where you can watch the Kansas City Royals and Texas Rangers during Spring training. For another thing, the city has an amazing aquatic center, tennis courts, and is surrounded by world-class golf courses.
Surprise values public art
The city of Surprise has invested in many public art installations, such as the fascinating bronze obelisk devoted to firefighters and a gorgeous 27-foot metal tree that can be found at the beautiful Surprise Community Park.
The weather is great!
While the summers in the Valley of the Sun are hot, nine months out of the year the weather is the envy of the rest of the country. If you buy one of the many quality homes for sale in Surprise AZ, you'll never have to shovel snow again!
Arizona is beautiful
When you live in Surprise, you'll always be close to the amazing landscape of the Sonoran Desert. What's more, it's less than a 2-hour drive to the cool pines of Flagstaff. Arizona is a state with a widely varied landscape, including the incredible Grand Canyon.
Arizona is rich in history
If you love the lore of the Old West, then Surprise AZ is a good place to live. You'll be close to many of the legendary places that you've only seen in the movies, such as Tombstone. Weekend road trips in Arizona are the stuff of legend.
The people are friendly
One thing you'll notice when you're looking at Surprise AZ homes for sale are the friendly neighbors. Surprise isn't just another place, it's a community. You'll always feel welcome here.
Surprise AZ is a place to grow
The city itself is not only experiencing positive growth, buying one of the unique homes for sale in Surprise AZ will set you and your family on a path of positive growth too. Surprise is a place where you can really be yourself, relax and enjoy life to the fullest!