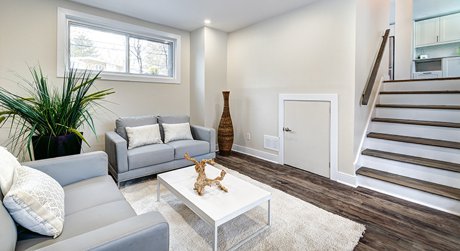 Homebuyers are in a prime position to buy a property today. The low inventory & all the competition happening for homes is due to a wide range of factors, and they give buyers more leverage than previous years. It has led to a steady improvement year over year in home prices!
In this competitive market, houses are selling quickly. According to the National Association of Realtors, homes typically sell in just 18 days.
The United States is in the midst of a home-selling frenzy, with houses selling quickly and often for record-breaking prices. However, this trend has also resulted in price increases for the average buyer. The National Association of Realtors reports that homes typically sell in just 18 days.
When you sell your house, it's important to have the home professionally photographed and showcased to get the highest price. Professional photographers will use lighting and techniques that help create a sense of depth and dimension in your pictures so that they are attractive, high-quality images. You can also consider hiring a designer to help you put together an aesthetically pleasing floor plan for buyers to view.
1. Make The Home Buyers Feel at Home
One way to make this happen is to take time to declutter. Remove any personal belongings that don't need to be with you. The more neutral and neat and clean the space, the easier it is for a home buyer to picture themselves moving in and living there. According to the 2021 Profile of Home Staging by NAR, "the average person admires houses with at least 300 square feet of space."
Consider having the home professionally staged, This depends on the price range, and potential equity gain from the staging.
Staging your home is a great way to potentially increase the sale price. Professional staging will make your home seem new and clean, which can have a significant impact on the selling price. This depends on the price range and potential equity gain from the staging.
2. Keep The Home Clean and Ready to Show
A few of my absolute favorite ways to keep your house neat and clean are to have a routine, declutter often, and set aside time for organizing. It's also important to avoid letting anything pile up in a corner of your room.
Pick up toys before guests visit, make the beds, and put away dishes before a potential buyer has a chance to appreciate your home. This will ensure that they don't spend too much time looking for something missing in the house.
Keep your home smelling fresh and clean with these easy tips. People have a strong sense of smell and will remember the smell of a given home. This is why it's important to make sure you're selling your home with that same sense of smell. Remove any odors that might be lingering from pets/cooking and keep it clean in order to sell your home quickly.
3. Give Buyers Access
Buyers will be more likely to make an offer on your house if they are able to easily schedule a time to check it out. If you have multiple times for someone to see your home, that opens up more opportunities for multiple buyers as they won't have to choose between different times. With smart scheduling, this lets potential buyers still find a way to schedule a home visit.
Health is a major concern in the United States today. In order to find the best safety measures and digital practices for listings, agents need to work with their clients. The agent should make sure to understand their client's needs and goals for their listing. This will help drive profitability, as well as help keep the client safe.
4. Price your home right
When it comes to selling your house, it's important that you set a price that is in line with the market. Today, there are multiple factors to consider when pricing your home. Depending on the market, you'll need to determine how much money you should spend on marketing and how much time should you spend maintaining the property.
Nowadays, with the housing market being so competitive and prices in general going up, it is not enough to just list your house on the market with an asking price. You should instead consider what you can afford when listing your house and then use professional real estate agents to help you figure out what the list price should be.
Bottom Line
The modern market is increasingly competitive, and today's consumers are more informed than ever. It is now easier than ever to sell your home because it's a seller market. Many people are willing to buy or rent your property thanks to the countless higher paying options that have been emerging in recent years. Let's try and connect today to figure out the best ways to maximize your $$$.