Furlough and unemployment is a problem for Surprise AZ, Families can only go so long before having to make tough decisions about selling their home, or getting a smaller rental. Most retirees in Surprise AZ are doing okay because they have fixed income retirements.
Don't go too long before you talk to a professional. Most homes for sale in Surprise AZ are sitting on a bunch of equity. That can seriously benefit your family. Please check with a professional CPA or financial advisor before you make any emotional decisions.
Let's discuss unemployment:
Tomorrow morning the Bureau of Labor Statistics will release the latest Employment Situation Summary, which will include the most current unemployment rate. It will be a horrific number. Many analysts believe unemployment could be greater than 20%. These numbers represent families across the nation that are not sure when (or if) they will return to work. The emotional impact on these households is devastating.
There are, however, some small rays of light shining through on this issue. Here are three:
1. The actual number of unemployed is less than many are reporting
The number of people unemployed is sometimes over-exaggerated. It seems that every newscaster talks about the 40+ million people "currently" unemployed. It is true that, over the last ten weeks, over 40.7 million people have applied for unemployment. It is also true, however, that many of those people have already returned to work or gotten a new job. The actual number of people currently unemployed is 21.1 million. This is still a horrible number, but about half of what is often being reported.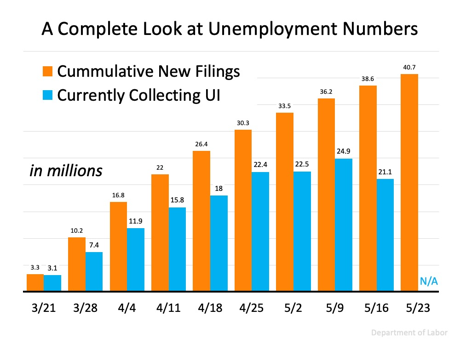 2. Of those still unemployed, most are temporary layoffs
Last month's unemployment report showed that 90% of those unemployed believe their status is temporary. Friday's report will probably show a decline in that percentage as the original number was somewhat optimistic. However, a recent survey by the Federal Reserve Bank showed that employers believe over 75% of job losses are temporary layoffs and furloughs. This means 3 out of 4 people should be returning to work as the economy continues to recover.
3. Those on unemployment are receiving assistance
According to a recent study from the Becker Friedman Institute for Economics at the University of Chicago, 68% of those who are eligible for unemployment insurance receive benefits that exceed lost earnings, with 20% receiving benefits at least twice as large as their lost earnings.
Bottom Line
Tomorrow's report will be difficult to digest. However, as the nation continues to reopen, many of those families who are impacted will be able to return to work.
Find out how much equity your home has with Quick Home Value
We understand that not everyone is employed right now. To protect your Real Estate interest and make informed decisions, Make sure you have the Scott Schulte team on your side. We are dedicated to keeping you informed about the market.
To reach us, please call/text Scott 623-293-2833
or send us an email scott@scottschulte.com
Check this Article out: Payson AZ | Time to Sell Your Vacation Home?