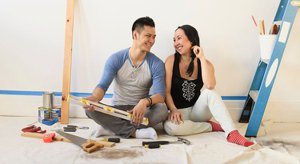 A few things that you might consider updating or remodeling before listing your house for sale are bathrooms, kitchens, and the exterior. Bathrooms often need new fixtures, paint, and flooring to make them look brand-new. Kitchens should be updated to include new countertops and appliances if they don't have these items already. As for the exterior, a fresh coat of paint can make a world of difference.
The market is changing and in order to get the most for your property, you may need to make some updates. But how do you know what's worth renovating? A real estate professional can help you decide what to do before putting your home on the market.
Deciding to renovate a home can be a daunting process. Often, homeowners think about the aesthetic and financial aspects of the project, but do not take into account other factors that are critical to the success of a renovation.
Hiring the right company for your renovation can be difficult, but it doesn't have to be. There are a number of factors you should take into account before making your decision.
Scott Schulte has been helping sellers get homes ready to sell since 2005, Scott Schulte's approach is not only about selling homes quickly, it's also about making sure the home is as marketable as possible so the seller can get the highest value for their property.
Scott's process includes prepping houses with staging tips, decluttering plans, painting/touchup advise and photography. He also helps sellers get in contact with contractors who can help them tackle large projects or sell their house in as-is condition.
Homeowners have less on their plate and they can make decisions faster and more confidently knowing that they are getting professional advice from someone who specializes in real estate.
1. With current supply challenges, home buyers may be willing to take on renovation projects of their own. As the housing market starts to level out, prices are becoming more affordable for first-time homebuyers. With prices leveling out and mortgage rates at a record low, it provides an opportunity for people who are qualified to purchase homes.
The inventory of available homes directly affects the market. If there is a surplus of homes for sale, it's likely to be a buyers' market because the demand will be less than the supply. On the other hand, if there are fewer homes on the market, it's likely to be a sellers' market because buyers will have less power in negotiating prices. A 6th month supply equals more of a balanced real estate supply of homes for sale.
A buyers' market is when there are more prospective homebuyers than homes for sale, which can create a flurry of bidding wars and inflated prices. With a buyers market, Sellers will often need to lower their prices to land a buyer.
On the other hand, a sellers' market is when there are more homes for sale than would-be buyers. As buyers are on the hunt for a new home, they will most likely have to spend more time looking. This is because, with so many homes on the market, buyers will have more competition and will be willing to take on renovations in order to make the house their own.
Home sellers in the U.S. are in luck as a recent report by the National Association of Realtors (NAR) states that the supply of homes for sale is still in sellers' favor.
So, what's that mean for you? If you're an Arizona seller trying to figure out whether or not to renovate your home, this is especially important because it is indicative of the market, and what buyers are willing to take on.
Home renovations can be costly and time-consuming. That's why it's so important to know whether or not renovating a house will increase the sale value. To find out you need to do your research and rely a real estate professional to guide your way into what is worth the time and money and what will be a give away.
The buyer's decision to renovate their home can be an indicator of how they intend to live. This is especially the case if the buyer is just starting out and doesn't have much furniture or decoration in the house.
The inventory of homes for sale is still tight and buyers may be more willing to purchase a home that doesn't meet all their needs and renovate it themselves later.
2. When it comes to building, renovation, or remodeling a home, there are many considerations to take into account. Projects can vary in size and scope and not all projects require the same amount of time or money.
Making the right decision about the overall design and style of your home can save you time & money.
One of the main reasons why people decide to discuss renovations with a real estate professional in the first place is because of their in the now experience. An agent will be able to create a unique, aesthetically pleasing home renovation that will help sell your home or attract potential buyers.
Agents have insider knowledge that can help sellers know when to list their home, how much to list it for, what upgrades to make prior to listing their homes and how other agents are pricing homes that are updated.
With new technology always on the rise, businesses are constantly trying to keep up and be trendy. But with new technology comes higher costs. Don't spend the time and money to be trendy when your buyer wants to upgrade to the newest fad later. Instead, focus on what your buyer needs now.
3. If you've already made upgrades recently, an agent can help highlight them to prospective buyers. Prospective buyers can learn about your progress and recent upgrades in an agent's introduction of the property, which can make it more attractive to potential buyers.
The pandemic of 2009 caused many families to stop all but the most necessary travel. Some even stayed home for the duration of the virus, and in that time, many homeowners undertook some home renovation projects.
The housing industry is booming and homeowners are investing more money into the homes they live in. In 2021, many home-related projects were completed such as kitchen remodels, bathroom renovations and outdoor improvements.
When selling your house, make sure to let your real estate professional know if you fell into any of the following categories. They can highlight any recent upgrades you've made in your house's listing to help seal the deal.
Bottom Line
There are many different things that go into getting a house ready for sale. Real estate agents will tell you that getting your home ready for sale is a lot of work and it is something that you should start to prepare well in advance of putting your Arizona house on the market.
Every homeowner has their own list of things that they want to do when it comes to preparing their home for sale. Some people create a checklist, others make an inventory of all the tasks and then prioritize them accordingly, while others just get started and tackle everything as they go. Regardless of the method you choose, the key takeaway here is to have a plan in place before going ahead with your prepping efforts.
For those who are looking to sell their house, there is a lot of work that needs to be done to get it ready. And Scott is someone that can help make this process easier and faster. For one thing, real estate professionals know what kind of house will be worth more. They can also determine the best price point for a given piece of property.
Get Your Home's Market Value: