Great news for you if your home is just too big, and your thinking about down sizing. Home values have been increasing for 93 consecutive months, according to the National Association of Realtors.
If you're a homeowner, particularly one looking to downsize your living space, that's great news, as you've likely built significant equity in your home. You are welcome to check your home value anytime at scottschulte.com.
The success of the Surprise Arizona residential real estate market, like any other market, is determined by supply and demand. This means we need to look at how many potential purchasers are in the market for homes for sale in Surprise Arizona versus the number of houses that are available to buy.

With early 2020 housing data now rolling in, it's quite evident there are two big stories impacting this year's residential real estate market in Surprise:

1. Buyer demand is already extremely strong
2. Housing supply is at a historically low level

Demand
ShowingTime is a firm that compiles data from property showings scheduled across the country. The latest ShowingTime Showing Index reveals how showings have increased in each of the country's four regions for five months in a row.

Supply
Move.com also just released information indicating that the number of homes currently for sale has declined rapidly and now sits at the lowest level in almost a decade. They explained,

"National housing inventory declined 13.6 percent in January, the steepest year-over-year decrease in more than 4 years, pushing the supply of for sale homes in the U.S. to its lowest level since realtor.com began tracking the data in 2012."

In response to these numbers, Danielle Hale, Chief Economist at realtor.com, said,

"Homebuyers took advantage of low mortgage rates and stable listing prices to drive sales higher at the end of 2019, further depleting the already limited inventory of homes for sale. With fewer homes coming up for sale, we've hit another new low of for sale-listings in January."
The decrease in inventory impacted every price range, too. Here's a graph showing the data released by move.com: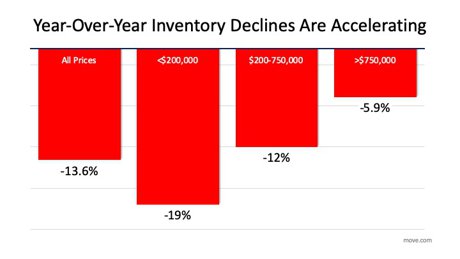 Here's some more good news: mortgage rates are expected to remain low throughout 2020 at an average of 3.8% for a 30-year fixed-rate loan. This put's you in a great position as a buyer, but as you have seen from other articles, Home prices are moving.

Some advisors think that the combination of leveraging your growing equity and capitalizing on low rates could make a big difference in your housing plans this year. Retirement homes for sale in Sun City Grand Arizona is a fantastic choice.

How to Use Your Home Equity
For move-up buyers, the typical pattern for building financial stability and wealth through home ownership works this way: you buy a house and gain equity over several years of mortgage payments and price appreciation. You then take that equity from the sale of your house to make a down payment on your next home and repeat the process.

For homeowners ready to downsize, home equity can work in a slightly different way. What you choose to do depends in part upon your goals.

According to HousingWire.com, for some, the desire to downsize may be related to retirement plans or children aging out of the home. Others may be choosing to live in a smaller home to save money or simplify their lifestyle in a space that's easier to clean and declutter. Maybe a home closer to work, to have a shorter commute. The reasons can vary greatly and by generation.

Home owners who choose to put their equity toward a new home have the choice to make a substantial down payment or maybe even to buy their next home in cash. This is incredibly valuable if your goal is to have a minimal mortgage payment or none at all.

Scott Schulte a local real estate professional can help you evaluate your Home value, and financial adviser can help show you how to use your equity it wisely. If you're planning to downsize, keep in mind that home prices are anticipated to continue rising in 2020, which could influence your choices. Some area's are moving faster.

The Impact of Low Mortgage Rates
Lower interest mortgage rates can offset price hikes, so locking in while rates are low will be key. For many downsizing homeowners, a loan with a shorter term is ideal, so the balance can be reduced more quickly.

Interest rates on 10, 15, and 20-year loans are lower than the rates on a 30-year fixed-rate loan. If you're downsizing your housing costs, you may prefer a shorter-term loan to pay off your home faster. This way, you can save thousands in interest payments over time.

Bottom Line
If you're planning a transition into a smaller home, the twin trends of low mortgage rates and rising home equity can kick start or boost your plans, especially if you're anticipating retirement soon or just want to live in a smaller home that's easier to maintain. Let's get together today to explore your options.